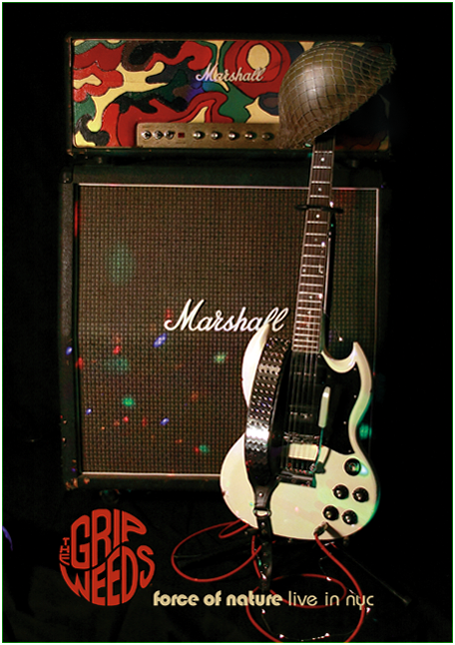 2016 Ground Up Records (DVD/CD)
Following last year's critically-acclaimed studio "concept album" How I Won The War (2015, Jem Records), The Grip Weeds have put together a concert film from a two-hour performance captured in NYC's Tribeca Performing Arts Center. Professionally shot with multiple cameras and recorded to digital multitrack. Force Of Nature Live In NYC will be officially released December 2nd on DVD from Ground Up Records, the band's own imprint, and available exclusively from the Grip Weeds' on line store. The release of this DVD will be limited to 750 numbered copies.

Force Of Nature Live In NYC includes 22 songs covering The Grip Weeds' two-decade history, performed in the band's electric high-octane style, with a low-volume acoustic mini-set and punctuated by well-chosen classics that display many of their primal Sixties Rock influences.

Force Of Nature Live In NYC will be available in two formats from www.gripweeds.com: Standard Edition DVD & a Deluxe Edition which includes the DVD, personalized & autographed by the band, plus:

Force Of Nature Live Via Satellite - an audio CD of their one-hour program recorded live in the studio at Sirius/XM in Washington, DC and originally aired Spring of 2016 on Sirius/XM's The Loft satellite radio show featuring DJ Mike Marrone. Includes 19 songs with band introductions and chat. This mass produced CD features 4-color eco-sleeve packaging.

Download Card with MP3 & FLAC audio for all songs from the concert film, including five additional performances not included on the DVD.